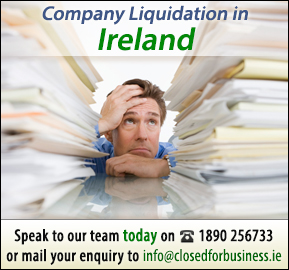 Company liquidations in Ireland have been headline news for all too long in Ireland. However statistics released by insolvencyjournal.ie indicate that the trend is starting to decline with the number of insolvencies reducing by 20% in the first quarter of 2013 compared to Q1 2012.
While larger companies tend to grab unwanted headlines there are many more smaller companies in Ireland faced with little alternative than to choose the route of company liquidation
While any company involved in a liquidation process will seek to keep the cost of liquidation to a minimum, liquidation costs are more keenly felt in smaller businesses. So how do you choose company liquidators who will minimise your liquidation costs?
Company liquidations require specialist knowledge and experience so when choosing a liquidator for a company, and especially a small company, you should consider:
Company liquidators experience – a liquidator with good experience will be familiar with the liquidation process and dealing with a company and it's staff. The liquidators experience is valuable since they will be able to deal efficiently with your companies liquidation and ensure the best possible outcome
Sector Knowledge – choosing company liquidators with specific experience in your sector should also be considered, since again this knowledge and experience can prove to be valuable during the liquidation process
Company liquidators costs – experienced liquidators will be able to give you an estimate of the cost of liquidation based on your companies circumstances
Company Liquidations Services
If you wish to keep the cost of liquidation under control, or indeed to know the cost of liquidation in advance, and want to avoid searching, contacting and explaining the same information time and again to different company liquidators, closedforbusiness.ie can help.
The ideal liquidator for a company will be an experienced liquidator and probably one with specific experience of liquidating similar companies in your sector, since this combination will ultimately result in a reduced cost of liquidation and the best possible outcome from the liquidation process.
When you make one enquiry with closedforbusiness.ie we will do all the hard work for you by contacting our panel of experienced company liquidators to quote for your company liquidation.
You simply make a one-off payment of €69 and we'll do the rest.
You'll receive back a short-list of experienced liquidators who are willing to help with your company liquidation, their costs for liquidating your company – based on the information you provide – their details and their relevant experience.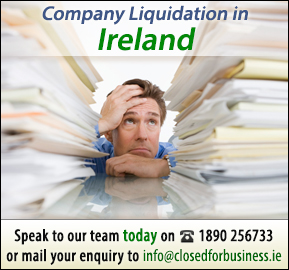 At no point will they contact you, but you are then free to contact any of the company liquidators whose details we supply. From then on you will deal only with your chosen liquidator and not with closedforbusiness.ie
Our customers tell us the small amount of €69 is well worth their investment, saving time but more importantly choosing a company liquidator who is best qualified to manage their company liquidation for the best possible outcome.
If you require the services of a company liquidator and would like further information please contact us on locall 1890 256733 or email info@closedforbusiness.ie