When a company ceases to trade it is obliged to de-register the company from the Register of Companies and with the Revenue Commissioner, or keep the company alive by filing annual returns to the cro [see Dormant Companies]. There are two main options to de-registering your company – Strike-Off or Liquidation. The following will focus on the Strike-off procedure:
How to Strike off a Company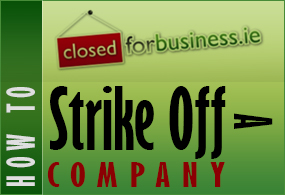 Voluntary Strike-off of a company applies when a company has ceased to trade and has gross assets or gross liabilities not exceeding €150 or where a company has never traded.
It is important to understand that even when a company has ceased to trade or has never traded it is still obliged to file annual returns. The consequences of not doing so can be serious and we have outlined the possible consequences at the bottom of this post.
A voluntary strike off procedure can be summarised as follows:
All outstanding returns must be filed and any associated fees or penalties must be paid in advance of commencing a voluntary strike off. This should happen a minimum of 2 weeks in advance of the strike off application being made
A letter of no objection is requested from the Revenue Commissioner, upon receipt of which:
An advertisement is placed in a national newspaper using the correct text notifying that the company is to be struck off and removed from the Registrar of Companies
A Director of the company applies to the CRO to have the company struck off using a form H15 together with an original page of the newspaper showing the advertisement as well as the letter of no objection from the Revenue Commissioner
As you can see, there are a number of procedures that have to be followed in a specific sequence for the strike-off process to run smoothly.
At closedforbusiness.ie we have processed over 3000 company strike off's in Ireland. We know how to strike off a company efficiently and correctly with the minimum of effort on your part. And as you'd expect from a professional strike off service we offer great value too with a full company strike-off procedure for €199 including VAT.
Involuntary Strike Off
Involuntary Strike Off can occur when a company fails to file annual returns. The CRO will send warnings in advance of striking a company off but if warnings are ignored the CRO will proceed to have the company struck off. This should be avoided at all costs, as the consequences for the officers of the company can include:
Any assets becoming the property of the state
Protection under "limited liability" is lost
Disqualification from holding company directorships
Possible conviction
Creditors petitioning to have the company restored and a liquidator appointed

If your are considering "How to Strike Off a Company" please seek professional advice – it's free and will help you take the best course of action. Please call us on 1890 256733 and talk to a strike-off professional today.